holistic-net has many years of application development experience of all sizes and in various industries. In the distant past, we have been involved in Notes application development and have learned about and helped shape the business processes and application needs of our customers over decades. At present, .NET Core for the backend development and Angular for the frontend are the hottest software platforms.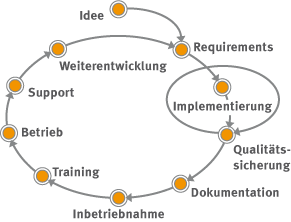 The focus has changed in many ways. Today, applications must be operable with a large number of different devices, they are no longer necessarily operated in the customer's data centers, but in a cloud, and the hip development platforms and frameworks are subject to rapid and continuous change.
As far as tools are concerned, the balancing act between innovation and investment protection must be mastered. No trend is missing
You can't skip any option due to lack of skills, but you also can't continually throw everything out of whack. Our customers must also be able to manage innovation, the applications must also be able to run successfully.
The advantage in 2020 is that we will no longer be developing monoliths, but will be thinking in terms of components that can be optimized individually.